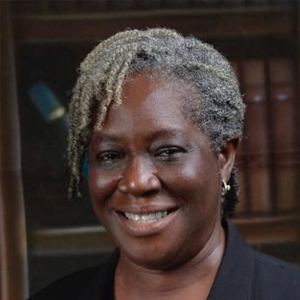 Mrs. Olusola Adegbonmire, C.Arb is a Legal Practitioner and Partner in the Law Firm of Sola Ajijola and Co. where she has practiced law for the past 34 years. 
She obtained her Bachelors Degree in Law (LL.B) from the University of Ife, Ile Ife, Osun State of Nigeria in 1984, and a Masters Degree in Law (LL.M) from the University of Lagos in 1987. Olusola was called to the Nigerian Bar in 1985.
In her law practice she has been involved in negotiations, mediations and various ADR processes with emphasis on Arbitration and Mediation. Mrs. Adegbonmire is a Chartered Arbitrator of the Chartered Institute of Arbitrators Nigeria Branch, and is an Approved Tutor and Assessor of the Institute.  
She is currently the 1st Vice Chairman, of the Nigerian Branch of CIARB. 
Mrs. Sola Adegbonmire serves on the board of the Kigali International Arbitration Centre, Rwanda.
Mrs. Adegbonmire is an Accredited Mediator of the Centre for Effective Resolution (CEDR), and a member of the Panel of Neutrals of the Lagos Multidoor Court House, where she arbitrates and mediates extensively.