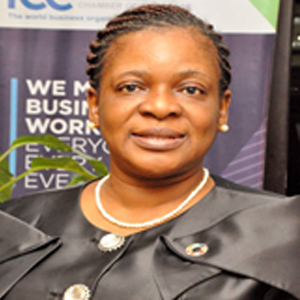 Mrs. Olubunmi O. Osuntuyi is the Secretary General/Permanent Head of the International Chamber of Commerce Nigeria. She has Master of Science (M.Sc.) in Industrial Relations and Personnel Management from the University of Lagos and a Bachelor of Science (B.Sc.) Hons in Sociology. Mrs. Osuntuyi is an ICC Certified Trainer on International Contract Terms (Incoterms® 2010, a registered Trademark of ICC). She also has Certificates in Project Management, ICC Certificate of Achievement in Mentor 600, online programme on Uniform Customs Practice (UCP 600) and Documentary Credits as well as Finance of International Trade certificate from the Institute of Export, UK. Furthermore, Mrs. Osuntuyi holds a certificate on Leadership Training on Ethics and Corporate Governance from the Robert Morris University, USA.
Mrs. Osuntuyi's pedigree in the private sector speaks eloquently of her commitment to best practices and good business ethics. Her work experience cuts across governmental journalism, advertising, training, and capacity building. Prior to now, Mrs. Osuntuyi worked with the Institute of Directors Nigeria and IQ Limited as Head of Programmes and Training and Chief Operating Officer respectively.

Mrs. Osuntuyi is responsible for developing and directing the implementation of the strategy to ensure achievement of objectives of the International Chamber of Commerce Nigeria while ensuring and managing the growth and development of the Chamber. The duty of general administration and efficient operation of the Chamber in line with international best practices rest on her shoulders.