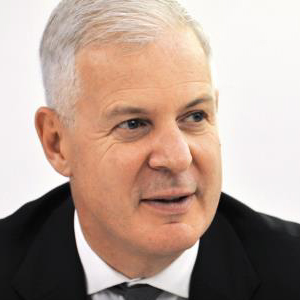 John W.H. Denton AO is the Secretary General of the International Chamber of Commerce (ICC). He is a global business leader and international advisor on policy and a legal expert on international trade and investment.
He is also a Board member of the United Nations Global Compact and Co-chair of the B20 finance and infrastructure taskforce, as well as a founding member of the Business 20 (B20), the Australia–China CEO Roundtable and UNHCR in Australia.
Mr Denton serves on the Board of leading global infrastructure group IFM Investors. Mr Denton is also the Chair of the Asia Pacific advisory Board of Veracity, a global advisory group based in NYC and Chair of the Moeller Institute advisory board at Cambridge University.
He co-led the Australian Government's 2012 White Paper on "Australia in the Asian Century" and previously chaired the APEC Finance and Economics Working Group.
A former diplomat, Mr Denton served for two decades as Partner and Chief Executive Officer of Corrs Chambers Westgarth, Australia's leading independent law firm.
In 2015, he was appointed an Officer of the Order of Australia for his services to
the business community, the arts and the rights of refugees, including as a founder of
Human Rights Watch (Australia) and Teach for Australia.
Mr Denton is an alumnus of Harvard Business School and the University of Melbourne.